Stabilizing the Critical Tyre Curing Process through Techtrol Radar Transmitter
INTRODUCTION
Tyre curing process requires an optimum quantity of water at 200 ˚C under 15 bar pressurefor fixed set time to stimulate proper chemical reactionto retain requiredform and shape of the tyre with specified chemical and physical properties. As such, having right quantity of hot water under high pressure in the bladder is very critical to produce quality tyres.
THE ROADBLOCK
A reputed tyre manufacturer was facing untold hardships in ensuring proper quantity of water in the bladder leading to quality defects&subsequent rejectionsleading to inflatedproduction costs. Theywereusing Differential Pressure Transmitter to maintain water level in the dearator, which was not able to sense water level at preset point due to clogging of impulse piping of DP transmitter by the loose rubber particles floating in the water leading to erroneous pump control operations.
THE SOLUTION
They were at their wits end, when Pune Techtrol suggested that the DP transmitter was not the correct choice of level measurement for this application and needs to be replaced by Guided Wave Radar Transmitter withPump Control System to ensure correct start-stop control of pump. Our control system has high accuracy and repeatability for sensing liquids under very high temp and pressure conditions, irrespective offloating particles in the service medium.
THE RESULT
The transmitter and pump control system have been performing extremely well since 2017 to complete satisfaction of their production and quality personneland has resulted in great savings in process downtime.All theirplants, have replaced DP transmitters with our control system.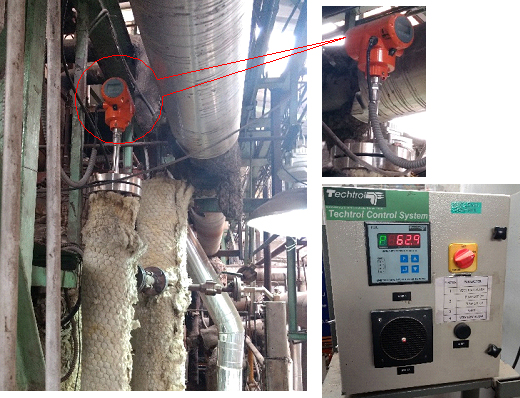 Guided Wave Radar Installed at Site